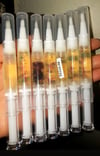 CUTICLE OILS come in five different varieties. All containing beneficial oils that help renew, moisture and nourish cuticles, restoring all the right vitamins to prevent bacteria and fungus to linger, all while aiding nail growth. All pure and organic oils used to give you the best healing cuticle oil.
• 24K GOLD UNDER EYE PATCHES
- Tone the skin under your eyes while restoring your youthful clarity! These 24K Gold collagen under eye masks help diminish the appearance of fine lines, wrinkles, puffy bags and dark spots. Refrigerate these masks to get the best results! Apply for 30 minutes.
• LIP MASKS
- These collagen infused lip masks hydrates your lips while reducing fine lines on and around your lips and boosts your lips plumpness! Apply for 30 minutes.
May Contain: Water, Glycerin, Nano-Active Gold, Propylene Glycol, Chondrus Crispus powder, Rosa Rugosa Flower/Hamamelis Virginianna Extract, Beta Glucan, Xanthan Gum, Betain, Hydrolyzed Collagen, Hydroxybenzyl Ester, Chlorobenzene Glycol, Essence, Parfum, Aloe Vera Extract
ALL SALES ARE FINAL
*Read Ingredients Page for the Ingredients List*